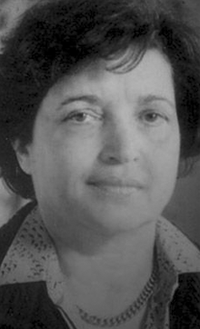 +

Curriculum Vitae
Études et Formation
1986 Se joint à l'Académie Saint Roch, dirigée par Jean Berthole, Paris, FRANCE
1985 S'établit en France
1979 Reprend ses études d'art au Beirut University College, Beyrouth, LIBAN
1955 Études d'art Beirut College for Woman, Beyrouth, LIBAN
Expositions Personnelles
10/2013 Galerie Amsterdam Whiteney, New York, ÉTATS-UNIS
01/2013 Biennale de Londres, ROYAUME-UNI
12/2012 Red Dot Art Fair, Miami, ÉTATS-UNIS
06/2012 Galerie Amsterdam Whiteney, New York, ÉTATS-UNIS
06/2011 Galerie Amsterdam Whiteney, New York, ÉTATS-UNIS
03/2011 Galerie Pall Mall, Londres, ROYAUME-UNI
05/2010 Galerie Dar el Bareh, Manama, BARHREIN
04/2010 Musée d'art contemporain, Las Vegas, ÉTATS-UNIS
01/2010 Publication du Master book – Contemporary art Book
09/2009 Biennale de Chiancinco Toscany, Musée de Chiancinco de Terne, ITALIE
09/2009 Galerie Kettaneh Kooning, Beyrouth, LIBAN
01/2008 Galerie Dar al Funoon, KOWEÏT
01/2006 Galerie Rochane, Beyrouth, LIBAN
02/2004 Galerie Mona Lisa, 32, rue de Varenne Paris 7e, FRANCE
12/2003 Galerie Dar al Funoon, KOWEÏT
05/2002 Musée I. Kavaleridze Kiev, UKRAINE
04/2002 Compagnie des Arts, Beyrouth, LIBAN
04/2002 Emmanuel Collège, Université de Cambridge, ROYAUME-UNI
12/2000 Galerie Le Cheval de sable, 7, rue François Miron, Paris, FRANCE
07/2000 ARTUEL Foire d'art contemporain, Beyrouth, LIBAN
04/2000 Concours International de Création Artistique, Thème la Provence ou Méditerranée, Fondation Regard de Province, Marseille, FRANCE
02/1999 Galerie Dar al Funoon, KOWEÏT
12/1997 Galerie Rochane, Beyrouth, LIBAN
04/1997 Galerie 17, 17 rue des Grands Augustins, Paris 7e, FRANCE
03/1996 Petite Galerie, 36 rue de Seine, Paris 6e, FRANCE
Expositions Collectives
2011 Salon Réalités nouvelles 2011, Paris, FRANCE
2010 Salon Réalités nouvelles 2010, Paris, FRANCE
2009 Salon Réalités Nouvelles 2009, Paris, FRANCE
Biennale d'art contemporain, Chianciano Terme, ITALIE
2008 Salon Dessin et Aquarelle, Grand Palais, Paris, FRANCE
Portes ouvertes, atelier Suzanne Forst, Saint Ouen, FRANCE
Salon Réalités Nouvelles, Paris, FRANCE
Salon de l'Art Contemporain, Alba, ITALIE
2007 Portes Ouvertes, atelier Suzanne Fost, Saint Ouen, FRANCE
Salon La Celle, Saint Cloud, FRANCE
2006 60ème Salon Réalités Nouvelles, Paris, FRANCE
Portes Ouvertes, atelier Suzanne Fost, Saint Ouen, FRANCE
Galerie Paul Marin, 83, rue vieille du Temple, Paris 3e, FRANCE
Biennale d'art contemporain, Téhéran, IRAN
Exposition Itinérante Hommage à Fikret Moualla, Paris, FRANCE – Istanbul, TURQUIE
2005 59ème Salon Réalités Nouvelles, Paris, FRANCE
2004 58ème Salon Réalités Nouvelles, Paris, FRANCE
2003 57ème Salon Réalités Nouvelles, Paris, FRANCE
2000 Petite Galerie, 36 rue de Seine Paris 6e, FRANCE
EUROP ART, Genève, SUISSE
Foire internationale d'Art Contemporain, Istanbul, TURQUIE
12ème ARTEX – Galerie Traversale, Paris, FRANCE
1999 11ème ARTEX – Galerie Traversale, Paris, FRANCE
Lion's Club à la Mairie du VII, Paris, FRANCE
EUROP ART, Genève, SUISSE
Journées franco-libanaises, Mairie du XXème, Paris, FRANCE
1998 ARTEX (Japan Contempory Art Association) Galerie Elyette Peyre, Paris 6e, FRANCE
1997 Musée Sursock, Beyrouth, LIBAN
ARTEX, Galerie Shagawa Kumin. 1-3-6 Ohio, Shinagawa-Ku, Tokyo, JAPON
ARTEX à la galerie Elyette Peyre. Paris, FRANCE
+

Alain Tasso a écrit

L'abysse floral est un lieu des sensibilités multiples, un espace fertile où Leila Chalabi puise ses idées. Ce peintre manie le pinceau à un moment de l'existence qui espère une récolte fertile.

Sous des reflets semi-flavescents, les clôtures ici proposées se dévoilent…parterres matures de corolles, de feuilles et de nopals, sollicitant les béquilles du vent.

Des fleurs naturistes, chaudes et ternes – riches confrontations signifiantes – se mêlent aux multiples mouvements spatiaux de la dyade ciel-terre. Un laboratoire d'explorations dont les détails sont occultés par le spécialiste afin de favoriser les recherches du lecteur.

Car de ces toiles, il y a des choses à dire, du moins à réfléchir. Qui y verrait un signe inaugural plongerait aisément dans l'espace d'une clairvoyance émotionnelle : concrétions de couleurs sur toiles, fluides dans la dynamique de l'esprit

.

C'est en fin d'après-midi d'automne que la signature de Chalabi s'incarne, entre les rayons lumineux du jour et les autres, plus denses, de la Nuit.

Qu'elle soit chargée d'épines, fleurie, rossa, terra ou encore expressive… l'image nous interpelle : elle ne détient pas la clé du portail mais elle sait pertinemment ouvrir des accès par de petites portes, les plus complexes d'ailleurs.

La perception heuristique des textures et des contours confirme le dessein d'une ébauche en route vers des voies durables.

Quant à l'œil, élément primordial de capture, il décèle une approche « humanisée », dont la fleur servirait de passage ; drame et souffrances se confondent dans une poésie latente… Pseudo-abstraction subtile.

Alors le jeu des sens se place dans son véhicule–vie, désorganisé puis organisé, déterré de la pensée première imprévisible et colorée… Une main figée se dénoue, chargée d'émotions : elle se dresse au front de nos miroirs, métaphore naturelle du germe, caressant les papiers de nos sens confirmés et sollicitant tous nos autres sens à élucider.
+

Les ailes du plaisir – « The Butterfly »

I was looking for a contemporary way in my art to express an indescribable feeling: the untouchable, the end.

It all started with the flower. In a long, tedious study, which lasted four years, season after season, flower after flower, I was about to feel as if I was part of the flower and it was part of me.

Studying it from the outside was a way to get familiar with the subject, like a zooming effect. The techniques of drawing permitted details to reveal themselves. Then, I looked inside the flower, observed the nerves, and examined the pistils. The leaves became a subject on their own, until the cell itself became the center of the study.

The abstract developed from the figurative object and through lines I went into the mystery and the unknown as well as through all the mediums: encore de chine, gouache. Flowers were my life.

After a few exhibitions, the need to change, the need to evolve pushed me out if that comfortable field. When consulting books and documents, searching for an association with the flower, I found the butterfly.

It was an enchanting discovery, a charming doorway to a new world of air and lightness.

The pencil, encore de chine, was the first too for sketching. Repetition. Each and every time more butterflies. As if I was looking for something unseen yet.

But my inner self had not spoken yet. I was hoping to reach the ephemeral: the sensation of life which will end soon, beauty bound to disappear. After a frantic period of work, nothing satisfactory resulted. The illustration was not the objective. Through much frustration, trying to clarify my thoughts and feelings, I continued to experiment. Not one insect was like another.

The moment came when at last; I was pleased with my brushes. It was a cherished time of amazement. Lines of a butterfly could convey the finesse of combinations. Colors were touches of magic and charm.

It is impossible to reach, touch, or hold a butterfly. A flower is there to engage all senses, but the rapid fluttering of a butterfly can be sensed but an instant. It vanishes as quickly, and if by any chance you hold one in your hand, beware: it might just turn into dust.

Ashes to ashes.
Dust to dust.
+

« Patterns and Light »

Leila Chalabi's hands are so familiar with the oil, brushes, térébenthine, and canvas. They have become her tool of expression. An exhibition of her latest works to catch the glimpse of changing light on patterns based on butterflies. And colours burst out.

« It's a subtle matter, a fine relation between what comes out on the canvas, and the realty to deceit.

It's a struggle between tensions, circumstances and the spirit unfolding with brushes. If it is not my environment, crisis, wars, my body antagonizes my will. Horribl things, skeletons, death, suffering, greed, injustice… They surround us all and I will not use them.

Nostalgia. The past is far away; I am in the present and I accept what I have.

My canvas is my basic grounding structure; colours are my language. It is my way to express and show my understanding of existence.

I look for harmony in my colours. Even the ugliest of feelings, violence, grieving, pain… will have to be shown in a sense of equilibrium, of completeness in the space given.

I add to life a touch of beauty and light. »
+

Introduction du catalogue de vente aux enchères

Leila Chalabi's hands are so familiar with the oil, brushes, térébenthine, and canvas. They have become her tool of expression. Her lastest works focus on catching the glimpse of changing light on patterns based on butterflies. And colours burst out.

She had finished her Fine Art degree Beirut University College, and when she moved to Paris, she joined for many years the atelier Jean Berthole where students worked on composition, colors and where the teacher gave an opinion on their work and progress.
This interaction between Jean Berthole and Leila gave her an insight on how the history of visual art had developed in the 20th century. Jean Berthole, born in 1903, was a teacher who had the luxury of exploring with his peers, the path of cubism, fauvism, surealism, and abstraction. Leila learned first hand the process until she felt comfortable with her style in abstractive forms and search for interests in subjects.

She started exhibiting her works in the late Nineties, first in collective exhibits in France at the "Galerie Elyette Peyre", in Paris, then in Japan at the Artex exchange program between French and Japanese artists. She then jumped into a personal exhibition at the "Petite Galerie" in Paris.
In the year 2000, she went to Istambul, Turkey for a collective exhibition, then Geneva, Switzerland for the Europ'art. In that year she won an award at the Foundation Regard de Provence, Chateau Borely, Marseilles, France, on the theme "Mediterranean".
In the 2000 decade, Leila exhibited her works in galleries in Kiev, Ukraine, Cambrige, United Kingdom, Paris, France and Kuwait at Dar al Funoon. In Lebanon she exhibited in the galleries "Rochane", "Compagnie des Arts" and "Kettaneh Kooning".
She participated in many collective exhibitions, the most recurrent and important is the "Realités Nouvelles" in France, as it is the last artists' group to propose works curated by a collegial team of artists. She proposed some of her works at the Chiancino, Italy; Museum of Contemporary Art at Las Vegas, USA.
Her most recent collective exhibit was in New York City, at the "Amsterdam Whitney" gallery.
+

LABYRINTH to a DREAM

Modern master Henri Matisse proclaimed "A picture must possess a real power to generate light, and for a long time now I've been conscious of expressing myself through light, or rather in light." Similar to Matisse, contemporary artist Leila Chalabi uses brilliant colors to express one's understanding and experiences with the dynamic and necessary phenomenon of light. Ms. Chalabi's uses mixed media on canvas in her Patterns and Light series to expose the variegated formations of this natural phenomenon. At the same time, Ms Chalabi shows that light's diverse presence in turn affects our own existence by making one's experience with the world change in accordance to light's appearance.

Ms. Chalabi's series takes the viewer through a multifarious journey filled with a plethora of patterns, perspectives and colours. Each different interpretation of light is meant to express abstractly in the inherent multi-dimensionality of light's essence: never static, light is constantly transforming itself and subsequent surrounding objects through time and space. In her series, Ms. Chalabi uses a cool color palette juxtaposed with hints of bright yellow hues and deep scarlet reds to mold organically loose forms, creating allover compositions with no beginning or end. Chalabi's expansive compositions speak to the limitless existence of light because in nature, one is unable to physically experience light's truthful origin. In her Patterns and Light Diptych, the lower panel of the canvas is filled with luscious blues and greens, where swooping lines delicately undulate, mimicking natural light's rhythmic wave. Ms. Chalabi's cool curvilinear waves transform into organic bursts of warm yellow ellipses spotted with cool blues and vibrant reds in Patterns and Light Triptych. These colorful organic forms similarly follow light's undulating pattern throughout the middle register of the canvas. Ms. Chalabi's series explodes with a diverse colour palette and shows that the brilliance of colour is minimal without its necessary counterpart in light. Ms. Chalabi's Patterns and Light series permits the time to experience a fleeting phenomenon by allowing one to contemplate and experience light's beautifully diverse expression.

This award-winning contemporary artist works primarily in France. Leila Chalabi's art exhibits extensively internationally, including exhibitions in France and New York City. The presence of her works in prestigious collections across the world affirms her continually expanding reputation.

Ruthie Tucker, Executive Director, Curator, Amsterdam Whitney Galery